Toll processor's eco-friendly coil coating satisfies just-in-time orders
February 2013 - From the blue awning of a bakery to the red neon sign of a local pub, color is everywhere. Therefore, it should come as no surprise that prepainted metal also is all around us. "Prepainted metal is in everything," says Maria Haun, marketing manager at Metal Coaters. "It's remarkable how many industries we coat metal for."
Although color initially may be what turns heads, at Metal Coaters, Jackson, Miss., the company's focus has been ensuring that it's more than the color that customers find attractive. Metal Coaters is one of the largest coil coating companies in the United States, and in 2012, it began rebranding efforts to prove that it's more than color that makes the company stand out.
A touch-up
To increase its industry profile, Metal Coaters received a marketing facelift. "The new brand identity features the company's experience, highlights their unique services and offers a declaration for what Metal Coaters stands for to their customers, their partners and their staff," says Haun. The rebrand reinforces Metal Coaters' unwavering commitment to its customers' success, a quality for which the company is well known. "With the rebrand, not only do we demonstrate that we are industry leaders but also we hone in on differentiators that have led to our success," Haun says.
Metal Coaters' new slogan, "Where more than color matters," focuses on customer satisfaction. Through improving inventory management, using environmentally friendly solutions and keeping customer costs down, Metal Coaters provides quality and committed service. With an increase in social media, a redesigned website and two inventory management systems in place, Metal Coaters wants to show the company's broad capabilities.
"We are the intelligence within; we bring sustainability not just to the color but also to the performance of the metal itself," says Haun. "While we don't manufacture the products, we do contribute to the aesthetics and overall performance."
With the recent opening of its plant in Middletown, Ohio, Metal Coaters now has four light-gauge coil coating facilities throughout the United States. The new facility will put the company in four major distribution regions, which will strengthen the customer's experience. "Instead of facing multiple layers of obstacles, Metal Coaters' lean infrastructure enables a more rapid response to customer needs and inquiries," says Haun.
Coated convenience
According to Forbes, in 2010, one-third of all new commercial buildings were green—a $54 billion market. In 2015, the green commercial building market is projected to triple to approximately $120 billion to $145 billion in new projects and $14 billion to $18 billion in retrofit and renovations.
Eco-friendly building projects are increasing as people become more environmentally conscious, making prepainted metal a wise option. "Coil coaters are basically consolidators who relieve manufacturers of the need for work in process inventory, in-house paint line capital improvements, regulatory compliance, hazardous waste, insurance and other costs associated with post-painting metal after fabrication," says Dan Happel, sales manager at Metal Coaters California. "If all of our customers were post-painting their fabricated products, it would be an environmental disaster."
The prepaint process involves unwinding metal coils, cleaning them, treating them and then painting and recoiling them. A continuous coil coating line typically takes about 15 minutes to process each coil. If Metal Coaters' California facility continuously runs one gauge, width and color, it can process about 800 tons to 1,000 tons of prepainted metal per day. "We offer substantial energy savings versus post-painting," says Happel. "We are much more productive than a post-painting operation, providing our customers with a larger economic advantage."
Metal Coaters uses a closed loop thermal oxidation process, which captures and destroys volatile organic compounds found in most coil coatings or paint. The waste heat is used in the curing ovens to reduce or eliminate the need for natural gas consumption, making the coil coating process environmentally sound. "Most coil coaters also have their own water treatment facilities," says Happel. "We clean and treat the water before it's put back into the sewer system."
Prepaint is the optimal alternative to post-painted metal not only for the environment but also for the customer. Metal Coaters' eco-friendly products appealed to Timely Frames, Pacoima, Calif., a manufacturer of prefinished steel door frames. The company has been a Metal Coaters' customer for more than 25 years. "With the increase in green building, it is more important now more than ever that Timely be an eco-friendly company," says Thomas Manzo, COO of Timely Frames. "[Metal Coaters'] strengthened commitment to manufacturing products that increase energy efficiency and reduce harmful environmental impacts is part of the reason we partnered with them." Manzo adds that prepainted metal also is recyclable.
During the last few years, both Metal Coaters and Timely Frames noticed an uptick in particular sectors of the green building business. "Growing market segments for us are cool metal roofing and insulated metal panels," says Happel. "Both are eco-friendly, highly energy efficient and designed for LEED-type buildings." LEED-certified buildings reduce landfill waste, lower operating costs and conserve energy. Manzo says the green aspect of factory finishing is a large portion of the company's sales and marketing efforts. "This emphasis [on being eco-friendly] will only increase as time goes on and more building professionals see the advantage of greener buildings."
Timely orders
During the last few years, the metals supply chain has seen a tremendous uptick in just-in-time orders. With the business world constantly evolving and speeding up, customers are expecting more in less time. "The new normal is shorter lead times and smaller order quantities," says Happel. "We've seen that trend in our industry, as well. Customers who used to place orders two to three months in advance now place them two to three weeks in advance."

Metal Coaters' fast turnaround helped Timely Frames reduce its own delivery time. "Metal Coaters has enabled us to provide our customers with improved lead times, resulting in increased sales, which helps increase productivity," says Manzo. Timely Frames factors in customer necessity, only ordering the desired materials from Metal Coaters, saving time and money. "Just-in-time orders are what make up the majority of our business today," adds Manzo. "Metal Coaters' flexibility to change the priority of orders has been a constant aide in helping us to provide this type of service to our customers."

Timely Frames also has benefited from a significant cost savings since working with Metal Coaters. "We have continued to work closely with Metal Coaters to keep costs down for both our companies while still maintaining a profit," says Manzo. "We are continually working together to ensure our painted and slit orders are more cost-effective for both companies."
With a partnership that spans two decades, Timely Frames has not only experienced a financial benefit to working with Metal Coaters but also a more personal relationship. "We appreciate the relationship we have built with Metal Coaters," says Manzo. "Timely's philosophy is to treat our vendors like customers and our customers like vendors. The quality of material received, in addition to the level of service and genuine concern from their internal personnel, as well as their representatives, is what makes this relationship so successful," a sentiment echoed by Haun.
"Metal Coaters' employees are proud of the product that they produce," she says. There is so much experience and knowledge here." MM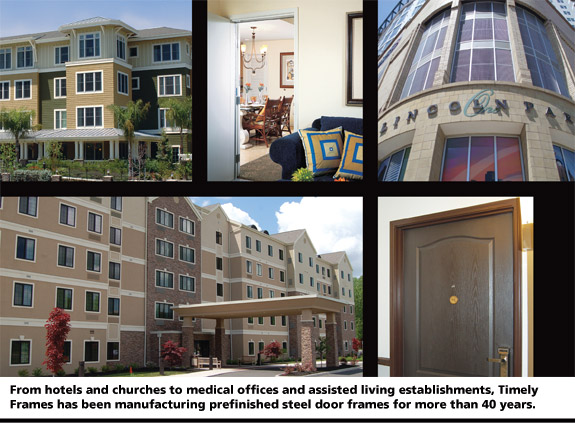 Interested in purchasing reprints of this article? Click here