Laser solutions boost productivity for builder of heat exchangers
March 2015 - The right mix of technology and partners can mean surefire results when it comes to improving performance on the production floor. A combination of equipment and drives from a key vendor is helping one manufacturer work smarter, faster and in a more fastidious manner that minimizes environmental costs.
Founded in 1985, American Industrial Heat Transfer Inc. makes heating equipment such as shell and tube heat exchangers and air and oil cooling units for a wide variety of industrial applications including paper mills, food, medical, construction equipment and tractor trucks.
Ninety-five percent of all the components used in American Industrial's products are made in La Crosse, Virginia, where it has a wide array of CNC turning machines, drills, welders and press brakes. For its sheet metal fabrication and laser cutting needs, American Industrial uses turret punch presses and laser cutting machines from Prima Power.
American Industrial has a long history with Finn-Power and now, Prima Power, machines. It operates two Prima Power E5x servo-electric turret punch presses and an older A Series model. With the E5x, servo-electric punching productivity is available in a flexible and affordable package, Prima Power contends. A pioneer in servo-electric technology, Prima Power designed the E5x to offer versatile, easy-to-use capacity.
Prima Power's machine control and user interface software with touch screen panel was created to help ensure a fast setup and convenient operation. The E5x can process sheets up to (98 to -27⁄64 inches) without repositioning. What's more, nesting parts is more efficient and economical, according to the company.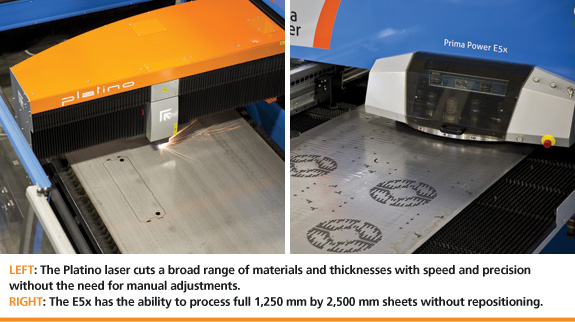 Precision punching
Chris Niles, American Industrial's operation manager, says prior to purchasing the E5x turret punch presses, his company completed a thorough review of punching technology on the market.
"We looked at what technology was available from other builders," says Niles, and learned Prima Power was one of the pioneers in servo-electric technology. "We were surprised that you could generate the amount of force that we require using a servo drive. Twenty-three tons is a lot of force to punch through steel. Previously, the only way to punch that much force was with hydraulics."
That technology has proven itself in other ways as well, according to Niles. "We really like how environmentally friendly and maintenance free it is. There is a lot of troubleshooting involved with hydraulics, but servo drives are a lot cleaner to operate, which means less maintenance for our technicians on the floor. From our past experience with Prima Power's hydraulic turret punch presses, we expected very precise equipment, tight tolerances and precision punching; and the servo-electric machines are even better."
Additional features that proved attractive for American Industrial included its servo-electric accuracy, which translates into higher yields per job, less scrap and excellent forming and marking capability. The machine also offers fully programmable punching speed, upper and lower limit of stroke; a programmable clamp setting; a robust O-frame design that results in perfect tool alignment and less wear on the punching tools; a touch screen and Tulus Lite user interface; and an average power consumption of 4 kW for less energy use.
Platino 2-D lasers
American Industrial also recently acquired two Prima Power Platino lasers with 4,000 watt resonators. The Prima Power Platino is equipped with lasers developed and produced at Prima Electro in powers ranging from 3,000 watts to 5,000 watts. The laser quickly and precisely cuts a broad range of materials and thicknesses without the need for manual adjustments.
Platino's laser cutting head gives users a choice of a 10-inch focal length in addition to the standard 5-inch and 7.5-inch lenses. The 10-inch lens enhances application flexibility by increasing the depth of focus and enlarging spot diameter for high and uniform cut quality of stainless steel up to 5⁄8-inch thick, aluminum up to 1⁄2-inch thick and mild steel up to 1-inch thick.
A compact footprint along with a Cartesian Cantilever structure provides three-sided access. The Platino is a cost-effective machine that is quick to program and easy to operate. Its stone-cast frame reduces vibration and increases stiffness by about four times when compared to cast iron and about six times when compared to welded frames. Unlike traditional cast or steel frames, its low heat conductivity results in much higher thermal stability.
The lasers have made a huge dent in the amount of time American Industrial needs to complete a job. "What do I like about the Platino lasers?" asks Niles. "What don't I like about them? Historically in our business, the fabrication has always been done on a punch. However, with a laser we are able to produce a nice smooth edge with very minimal burr on the back side on the part.
"When we first installed the Platino, we ran one of our bigger jobs that involved all [grade] 316 stainless steel," he continues. "In the past, it would have taken us roughly three weeks to punch out the parts we needed. It took us only 3.5 hours on the Platino laser."
Easier assembly
While Niles expected good results from the laser in functions such as speed and turnaround for getting finished parts out the door, American Industrial discovered other benefits from using the new Platino lasers.
"The Platinos were our first lasers so we had a learning curve," explains Niles. "We really enjoy the machines. We look at how fast we can get the parts out on the 7-gauge, and it has a nice clean cut. This has made it easier on our welders during assembly. A lot of our pieces fit together, and they are fitting together a lot better due to the quality of the laser cuts."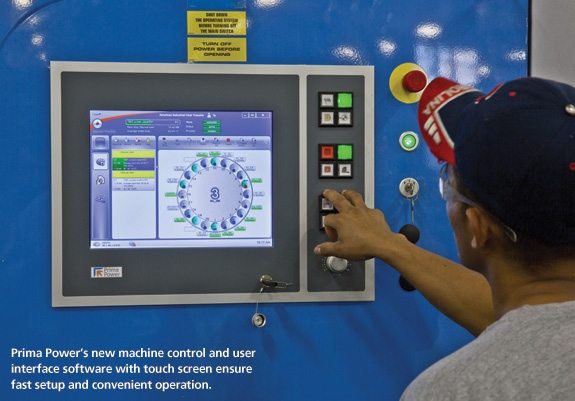 Tube cutting tool
One feature that Niles especially likes with the Platinos is the rotary axis option for tube cutting. With zero setup time, the Platino can change from cutting sheet metal to processing round, square and rectangular tubes.
"Prior to purchasing the Platino lasers, we had many stages of production," explains Niles. "First we had to saw the pipes, and then they would go into the machine shop where we would mill out the radius so that it would fit on top of the shell with a proper fit for the welders. We don't have to do that anymore."
Now, Niles says, "We can put it on the rotary chuck and actually cut out the radius as the pipe is rotating, and cut it all in one piece." What would have taken four or five hours in the machine shop to machine is now produced in one or two minutes.
"We get a lot of use out of the rotary axis option. On one part which is [grade] 316 stainless steel tubing with a 10-gauge wall, we can cut the 320 holes on the Platino in about 15 minutes, compared to the three to four days it took us before the lasers," he explains.
The new equipment is opening doors and allowing American Industrial to reduce its reliance on outsourcing tasks to third parties. "The Platino lasers have made us more diversified, and helped us shorten our lead times for our products," says Niles. "We aren't depending on outside companies to bring in materials."
Before installing the Platinos, the company would make a drawing or a print for a special flange "and we had to hire one of the local steel distributors to flame cut it for us. Today, we have our sheet in stock, run it on the Platino, and do not have to depend on outside vendors." MM