Above: Operations at the horizontal caster are staffed by Supervisor Adam Bucciarelli, Cody Lofland and Marshall Crockett.
Rock 'n' roll culture, market forces compel extruder to expand into billet production and compete directly with imports
November 2016 - Elvis Presley and other great artists became icons because they did something new or outperformed their peers. Service Center Metals (SCM), which started making extrusions in 2003, is applying the formula that made it a hit in that business to melt and shape 6000-series billets and sell them to customers that normally rely on imported billets.
"Thirteen years ago, with all the consolidation that took place among distributors and extrusion suppliers, we thought there was a void for low-cost, high-quality, high-service manufacturing that could use state-of-the-art extrusion equipment and enter the service center business," CEO Scott Kelley says.
Located in Prince George, Virginia, SCM remains "the only extrusion plant dedicated completely to the service center industry"—a still-growing customer base for extrusions—where the company has "had a lot of success," Kelley says. SCM supplies extrusions to every major service center in North America.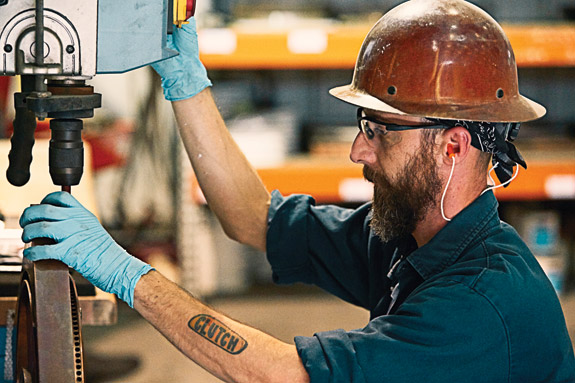 Mold technician Chris Pond makes final preparations to a 14-inch-diameter mold prior to casting.
It commissioned its first 35-million-pound extrusion press in 2003. Three years later, installation of a second press lifted capacity to 100 million pounds. "We started with a shovel of dirt," Kelley says.
"It was a clean state," recalls Chip Dollins, vice president of operations. "We were three guys with no earnings for the first 18 months. We took the good things we learned from years of experience in the aluminum industry, applied those, and avoided all the bad things."
Like the void in domestic extrusion capacity of a dozen years ago—"we now see a void on the billet side," says Kelley. "North American extrusion billet capacity has decreased. We expect to see further closures among primary plants and inefficient remelt casting operations, driven by competition from imports, high energy costs and dated equipment."
Soon after launching its extrusion operations, the caster from which SCM sourced its billet was closed, so it "started buying from another plant, which closed, and then a third plant, which was partially closed," says Kelley. "That forced us to buy imported billets." Sourcing raw materials offshore often presents logistical and inventory risks, he says, which can impact financial performance. "If we as an extruder have this issue, so must other extruders," he says.
In response, SCM commissioned Phase I of a remelt operation producing 75 million pounds of billets in 2014. All that capacity has been consumed in SCM's own extrusion presses. Phase II, which should be operational in January 2017, adds 100 million pounds of billet volume. This will not only make SCM 100 percent self-sufficient, it will also open up the opportunity to sell billet externally.
Casting operator Marshall Crockett removes a filter dam during startup of a horizontal casting campaign.
Along the road, the team enjoys naming its equipment. "Our first press was Elvis. The second press was The Boss. Phase I has two casting lines—Mick and Keith. Phase II will have two casting lines as well—named Jake and Elwood. This is part of our culture," which also emphasizes safety and quality, says Dollins.
The same ability to develop extruded products like Lightning Rod, Thunder Bar and Velocity Plate is being employed to produce LaserLog, SCM's billet for external consumption. Some of the advantages SCM has over exporters are quality, reliable delivery and knowledge of the domestic market and, of course, the efficiencies inherent with the most up-to-date equipment and processes.
[ quality marks ]
Certified
LaserLog is LEED and ROHS-2 certified, REACH certified, and meets DFARS (Defense Federal Acquisition Regulation Supplement) standards. SCM is in process of certifying the billets to the ISO 9001-2015 quality standard, and expects to earn it next March. LaserLog is also certified under the PED (pressure equivalent directive), a specification used in Europe for pressure vessels.
Consistency
SCM partnered with Hertwich Engineering, a machinery builder in Austria, to design and build both phases of its billet casting plant. It features continuous horizontal casting. While more prevalent in Europe, there are now three horizontal billet casting plants in North America and, when Phase II comes on line, SCM's plant will be the largest in the world.
"The technology is state of the art and produces the best quality in the industry," says Dollins.
With vertical casting, producers typically get eight to 12 drops per day; with horizontal casting, production runs can last up to a week. "That allows us to maintain consistency log to log, billet to billet." The line also features a continuous homogenizer, "which reinforces consistent quality."
SCM's 156,000-square-foot Extrusion Plant (left) and newly expanded 271,000-square-foot Compact Remelt Plant.
SCM first tested its billets with external customers that have demanding forging applications to make sure they would be satisfied.
Cal Wiggins, metallurgist and director of quality & sales services for SCM, says the new remelt shop will produce 6000 series alloys, such as grades 6061 and 6063.
Diameters range from 8-inch to 14-inch in 1-inch increments, which "covers a variety of extrusion press needs," Wiggins says. LaserLog lengths will range from 225 to 300 inches but "what sets us apart is we can provide custom lengths at less than truckload quantity."
Another critical specification for billets is bow—the curvature of the log when cast. Typically, a bow of 1⁄2 inch over the log's length is considered acceptable. "We will manufacture to 3⁄8 inch," says Wiggins, which means "we are able to produce laser-straight log."
Metallurgy
During remelt, SCM monitors log chemistry every 30 minutes by optical emission spectrometry. "We also are performing dual filtration of the molten metal to make it cleaner. Most producers have single filtration only. We are also rotary degassing our material to low hydrogen levels," Wiggins says.
Referring to the continuous homogenizer, Wiggins explains that the cast billet enters a walking beam furnace, which provides a tight temperature range. The process puts certain alloying elements into the solution and provides a critical phase transformation for those alloys. With this process, in which a temperature variation of 5 to 10 degrees is normal, "we can consistently get that phase transformation to 95 percent or more."
Batch homogenization, by contrast, often allows temperatures to vary by 20 or 30 degrees, which reduces the consistency of phase transformation and may result in erratic grain size and erratic surface quality. SCM can now "produce material to a grain size of less than 150 microns for better formability and machinabilty."
Service Center Metals expanded its indoor scrap storage and handling facility to feed the new Compact Remelt Plant.
A continuous ultrasonic testing station "tests the logs for cracks from one end to the other. No material with cracks will leave the facility," Wiggins says.
From end to end, billet production is automated under one control system. "Our database captures all the data. We know everything possible about the process and the end product," says Dollins.
With traditional vertical batch casting, explains Wiggins, "you have two or three chemical checks that represent up to 100 logs. We will have two to three chemical checks that represent two to four logs. We know much more about each individual log."
All of this consistency, chemistry, straightness and repeatability are important for machining and forming applications.
Ch-ch-ch-ch-changes
Roughly 13.5 percent of extrusions are consumed by service centers, but the automotive suppliers are now dramatically increasing their use of aluminum. The lightweighting mandate has caused "a lot of people to worry if there is even enough extrusion capacity to fulfill the transportation growth," Kelley says, so supporting automotive growth is the biggest opportunity for LaserLog sales.
The fact that there is a new homegrown producer of 6000 series alloy logs will be meaningful, he insists. "From a logistics standpoint, a lot of metal comes in from the Middle East. And due to all the closures in the U.S., a lot has been coming in from Russia. We are an efficient domestic alternative, offering very high quality."
12-inch-diameter grade 6005A SCM LaserLogs are tagged and ready for shipment to an external customer.
SCM outservices competitors, particularly on lead times. "We took an external customer order for a 6063 alloy billet in a new customer chemistry last Friday. We cast it Monday in a brand-new diameter and we will ship it this week," Wiggins says.
Customers will catch on quickly, the team believes. "The custom length is a big deal, the straightness of the billet is a big deal. The DFARS requirement is in greater demand," he says.
Against the global market background and in view of the evolving pace and direction of demand, SCM has had to be a rolling stone, gathering velocity on its upward trajectory. "We have a pretty remarkable growth story," Dollins concludes. MM