Architect transforms shipping container into guest house
March 2012 - When architect Jim Poteet was asked to turn a steel container into a guest house, he found the project hit close to home in more ways than one. Poteet has held several key positions as an advocate and local leader for the revitalization of downtown San Antonio. His firm, Poteet Architects LP, located in San Antonio's Southtown, specializes in taking existing building envelopes and transforming them into usable, stylish living and working spaces, even at the microcosmic level of a discarded steel storage container. The firm's work includes residential, commercial and institutional projects as well as minimalist interior design.
"Over the last 14 years we've taken on projects to urbanize San Antonio," says Poteet. "We want to draw people back to downtown living by giving them places to work, shop and play yet still leave room for the cultural institutions and tourist attractions San Antonio is known for. Our work tends to be modest but places a high value on authenticity. In reusing buildings, you get a materials palette that you can't afford today in new construction."
Poteet adds that the ability to repurpose things like the steel shipping container also supports the ongoing trend for green, sustainable products. "Our work is client-driven," he says. "We revamped a small loft and commercial building for a local client who then came to us with the idea of converting a steel container into a guest house. We decided to take on the project as a prototype. Her property, a vacant construction yard in Southtown, provided the perfect setting."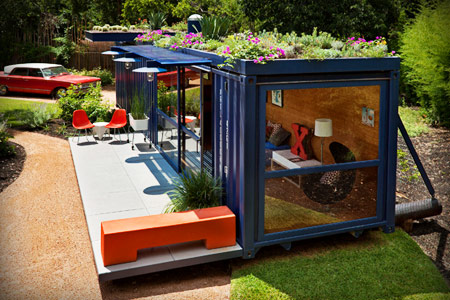 Seating steel
A Corten steel one-way container was sourced from the Port of Houston Authority. According to Poteet, architects like Corten steel because in its exposed form the steel rusts to a beautiful red color yet resists corrosion, making the metal low maintenance and durable. One-way steel containers come from China and are then discarded, says Poteet.
"It's hard to believe these large steel structures are just left to rust." Poteet's client looked at several containers before selecting a standard size (8-foot-wide, 8-foot-tall, 40-foot-long) box painted bright blue. The container was trucked to Southtown, its purchase price plus transportation totaling approximately $6,000. "Then the real work—and costs—kick in," adds Poteet. "Integrating all the needed systems and making the space livable requires custom work. You can't go to Home Depot and find any of these parts or pieces."
Seating the container on a foundation of recycled telephone poles allowed the structure to float above ground and created a crawl space for plumbing. The container was insulated with spray foam and then lined with bamboo plywood. Poteet's team removed the end wall to incorporate specially fabricated steel-framed windows and a sliding-glass door. The container's large storage doors on its opposite end were retained for storage. A flat, modular roof garden was fashioned from steel tubing to provide a creative, attractive method for deflecting the heat. "We developed the metal modular system for the garden because the roof of a container is actually flexible," says Poteet. "The container's strength is in its frame, not its walls or roof."
Using an additional steel frame to elevate the garden allowed air to flow between the roof and the garden, which captured water from rainfall. Steel "Ts" were welded within the framework to hold individual planters. A steel frame with wire mesh carried the garden theme to the back of the container by providing a canvas where vines could grow and further shade the structure. Placed at an angle, the natural barrier also shielded the air conditioner and grey water capture tank from view. "We installed a composting toilet and piped sink and shower water—classified as grey water—to the roof to be used for irrigation," says Poteet. Other key touches included pre-finished red sheet metal used to line the bathroom, fabricated steel arms to support lights and steel disc plow blades fashioned into light shades. A skylight fabricated from aluminum and polycarbonate sits atop a steel cylinder to allow additional light into the bath.
New spaces
Those interested in container living should check with local authorities about zoning laws and building codes before sourcing the box. The container with its steel-framed deck made from recycled plastic soda bottles has caught worldwide attention.
"I think part of its attraction is that we did not over-modify the structure. You can still see the shipping numbers and large doors at the end of the container. Designing new uses for existing spaces is about finding a balance between what you choose to change and how that highlights those parts you leave untouched," Poteet says. MM