A restoration shop attracts a niche market by recreating an antique allure
October 2012 - Turning a passion into a profession involves taking a risky plunge. In the case of Colin Hyde, the right blend of knowledge and skills has solidified a career, as well as his authority on a mainstay of mid-century Americana.
He restores Airstream trailers, the aluminum-skinned vintage vessels that command attention on the freeway or at a campsite. From his 4,500-square-foot shop, Colin Hyde Trailer Restorations, Plattsburgh, N.Y., Hyde reworks trailers with names like Caravel, Tradewind and Flying Cloud.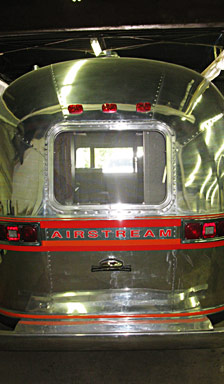 "Every person has an Airstream story from when they were a kid," he says. "They saw one at a rest stop or their grandparents had one. They're always amazed by the look of them."
Working with the signature aluminum isn't always easy, given generations of Airstream models. With different model years came different alloys. Hyde mainly works with the high-strength 2024 T3 Alclad aluminum for skin restorations. It's a multigrade alloy with 5052 aluminum on the exterior. The two alloys are rolled together so the sheet has a strong core with a corrosion-resistant exterior, Hyde says. The 0.032-inch=thick sheets only have about 0.003 inch of the 5052 cladding.
"When you're trying to take out nicks or scrapes, you've got to be careful of not going through cladding," he says. If that happens, the skin might show "little islands" where the two alloys are apparent. "It's not really horrendous, but it's critical. People are lot more picky on these things."
In the 1980s, he says Airstream switched to 3003 and 3004 alloys that featured a mill finish. About 20 years later, the company moved to a pre-clear coated version produced by Alcoa, which is what Airstream uses today. That mill finish on the sheets, which are thicker at 0.04 inch, is a big advantage for removing scratched and dents. In addition, the newer alloys are softer, dent a little bit easier, and do not have the corrosion resistance that Alclad has, Hyde explains.
"So if you work the metal, you have to reproduce that mill finish to make it look good," he says. "We've used Scotch-Brite and other techniques to try and reproduce that grained look. It's worked pretty well."
Hyde owns several Airstreams, the first of which is a 1957 Sovereign of the Road, a 30-foot-long polished beauty. It's accented by 13 riveted, non-compound, armor-like panel end caps that give it a midcentury modern swagger.
"Later in the 1950s right up until today they became compound-curved parts, so the end cap pieces are not easily replaced or repaired unless you have access to original parts, or an English wheel," he says.
Spreading the good word
In its eighth year of business, Hyde's four-man shop has the fortunate burden of a work backlog. The business grew out of his experience owning a machine shop and working on Airstreams on the side. When jobs dried up, he contacted a vintage trailer supplier to produce and sell parts on its website. When the two met, the owner suggested Hyde go into restoration instead.
"I said, 'we're in the middle of nowhere; no one will come here to get a funky, weird, 50-year-old trailer fixed,'" Hyde recalls. The owner posted an ad with a vintage Airstream club nonetheless. "In a month or so, I started getting emails. A couple weeks later, someone showed up, gave us a deposit, and we're off and running."
Each week, Hyde trades his tools for a headset to produce a podcast: "The VAP," or "The Vintage Airstream Podcast." Collaborating with a California-based Airstream aficionado, Tim Shephard, the two talk about all things Airstream, much like NPR's "Car Talk."
"It has helped the business significantly because I've developed notoriety around the world now," he says. The Grand Daddy Hotel in Cape Town, South Africa, boasts the world's only penthouse rooftop trailer park made up of seven perched Airstreams for which Hyde supplied parts.
The Airstreams' antique allure is rooted in a demand for mid-century design that defined much of the 1950s. Many adults are finding it less expensive to restore a vintage Airstream with new technology than buy a new production trailer.
"Depending on their skill set, people take on some of the job themselves, or some will give me major structural elements to work on—floor, chassis, axle, sometimes wiring, and they'll take the trailer back as structurally sound and finish it off," he says. "They have a huge following out there." MM