Above: C channel in the background before PV panel installation at CVSR.
Solar panel maker switches to custom roll formed steel for panel support, sheds light on cutting costs
May 2013 - In 2011, California Gov. Jerry Brown signed a law mandating the state to procure 33 percent of its electricity from renewable sources by 2020. It's a lofty goal for the country's most populous state, which has been emblematic of macro-scale renewable energy efforts. Aside from wind farms that already dot California's landscape, photovoltaic panels represent the visible results of the mandate, with more than 1.5 gigawatts of solar power installed to date and strong market growth expected.
One of the companies at the forefront of solar technology is SunPower Corp., headquartered in San Jose, Calif. SunPower designs and manufactures high efficiency solar panels systems for residential, business, government and utility customers. The company has more than 1 gigawatt of large-scale solar power plants operating globally.
The 250-megawatt California Valley Solar Ranch, which is under construction on approximately 1,500 acres in San Luis Obispo County, Calif., broke ground in 2011. CVSR energized its first 22 mega­watts of electricity for the utility grid in September 2012, with approximately 130 megawatts energized by the end of the year. The power plant is expected to be complete later in 2013. SunPower is adding PV panels as fast as they can be made and components can be supplied.
At the site, SunPower is installing its T0 Tracker, which uses GPS to direct panels at the sun during the day, increasing energy capture by up to 20 percent compared to conventional fixed-tilt solar power systems.
SunPower worked with American Roll Form Products Corp., headquartered in Painesville, Ohio, to develop a custom C-channel-shaped ground piling upon which each tracking system sits.
The pilings are the key structural component used to anchor the tracking system and PV panels. The vertically planted C channel connects to a bearing assembly that lets the panels tilt. American Roll Form's channel product can be produced and installed quickly, which helps reduce costs.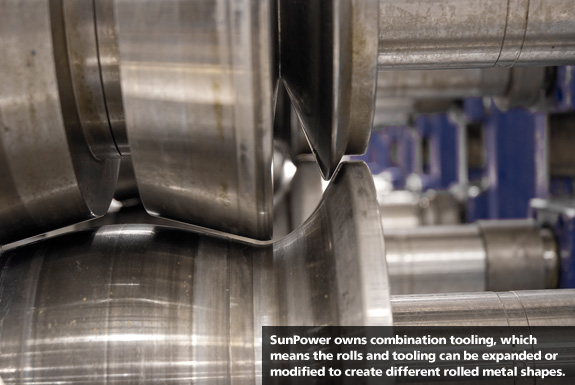 Change the channel
In 2009, American Roll Form first approached SunPower after seeing an opportunity in the solar industry for roll form products. The relationship began at a trade show, where SunPower was exploring structural steel alternatives to reduce lead times and improve material efficiency. The company began a conversation with American Roll Form for a C-channel product, according to Randy Gomez, senior global commodity manager at SunPower.
"The numbers we talked about to serve SunPower's power plant business didn't faze them because they could make these so quickly," says Gomez. Engineers from both companies collaborated to design custom roll tooling, which resulted in the C-channel shape.
"It was just a matter of lining up what they needed," says Chris Schmitt, director of marketing at American Roll Form.
For SunPower, American Roll Form manufactures several lengths from 10.5 feet to 16 feet in thicknesses ranging from 7 gauge to 11 gauge. The company cold roll forms the channel from custom slit steel coils (weighing 10,000 pounds), which are uncoiled, run through a straightener and a prepunch die for holes depending on the requirement—in this case, mating bracket bolts that connect to the PV panel.
Next, it slowly runs through the roll tooling in up to 53 foot lengths. A set of roll tooling forms the metal into the desired shape, after which the channel is cut within laser precision of 0.030 inch, explains Schmitt.
SunPower's particular tooling is referred to as combination tooling, meaning it's reflexive to the point where it can expand the tooling's web. This value-added feature gives American Roll Form the flexibility to accommodate new features in the future without redesigning tooling.
Savings under the sun
After switching to American Roll Form's C channel from round tube, SunPower saved an average of $150,000 per week on the project, according to Schmitt. However, as good as the savings looked on paper, it wasn't easy convincing the subcontractors, who installed the pilings, that the C channel was a viable product.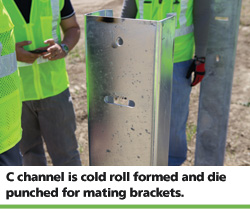 "The installers actually had to get past their unfounded perception that our product was inferior to round tube," Schmitt says. "So it took several visits from our team and theirs [to prove] that this wasn't just a cost savings, but it was better engineered for this application."
The savings will make its way to the 100,000 homes that CVSR is expected to power through utility company Pacific Gas and Electric Co. The power will help California reach its renewable energy delivery requirement, as mandated by California's Renewable Portfolio Standard, according to NRG Energy Inc., the company that owns the CVSR.
Vegas and beyond
As the quick adoption of a more cost-effective piling has cut SunPower's costs, American Roll Form has been busy staying competitive. In March, it opened a 40,000-square-foot manufacturing facility in North Las Vegas, Nev., that will have five roll form lines running by June.
Schmitt says the company's top 25 customers in 2008 came from 23 separate industries, with the solar industry representing about 30 percent of the business now. Although blueprints for the Las Vegas plant existed before its relationship with SunPower, he says, that project certainly has been a centerpiece of American Roll Form's success.
"It developed more out of convenience and necessity," Schmitt says. Before the Las Vegas plant, American Roll Form manufactured the C channel from its Painesville plant on Cleveland's east side. From there, shipping to California costs approximately $5,000 per truckload. Shipping from Las Vegas saves about 80 percent—cutting $5,000 down to $800 to $1,000 per truckload. That's bottom-line savings for customers.
"This is part of the drive to get to Vegas. We knew for our sake and other partners in the industry that we had to move west," Schmitt says. He cites ongoing projects with manufacturers in New Mexico and Mexico, as well as projected population growth in the Southwest as other expansion factors. Further down the road, American Roll Form is eyeing the Southeast.
The timeline is aggressive because American Roll Form is hiring, training and making sure its quality systems are up to snuff. The goal is that its customers won't sense a blip on the radar besides reduced costs in their orders.
With the C channel's success at CVSR, SunPower is adopting roll-formed C-channel piles as standard for future solar projects. MM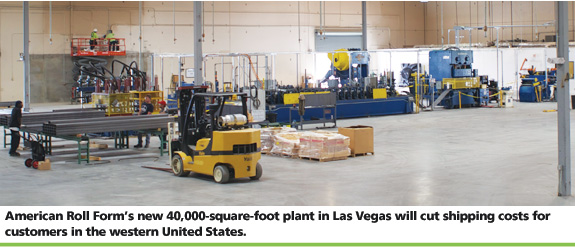 Interested in purchasing reprints of this article? Click here