Above: GMTA configures Arnold 3-D flexible laser cells, with Siemens CNC controls, that cut or weld simple and complex components.
Three companies work in concert to make modular laser cells smart factory ready
November 2015 - In L. Frank Baum's "The Wonderful Wizard of Oz," the yellow brick road covers many long miles across diverse landscapes before reaching the Emerald City. The singular byway was paved with bricks each painted a brilliant yellow to prevent travelers from losing their way. For manufacturers trying to map a course to the smart factory of the future, the pathway is not so well-defined. Interconnected intelligent production technologies offer a place to start. And for lasers, the field is wide open. The technology's ability to perform high precision cutting and welding makes it attractive to both service centers and metal consuming manufacturers alike.
Three companies have pooled their talents to give customers "smart-factory ready" lasers by introducing modular and dual-cell systems that can "talk."
Ann Arbor, Michigan-based GMTA, a U.S. subsidiary of Profilator GmbH in Wuppertal, Germany, supports precision workpiece and specialty markets with a wide range of machine tools. Family-owned and operated Arnold Ravensburg, Ravensburg, Germany, designs and builds laser welding systems to support the largest chunk of its business: mass-produced parts for the automotive transmission industry. Its 3-D flexible laser cells can perform simple 2-D cutting applications or cut and weld complex 3-D components. To support the growing need for flexible, intelligent multi-use cells, GMTA, the North American representative for Arnold, is pairing its machine tools with Arnold modular lasers in unique configurations tailored to the production flow of each customer.
Making connections
Arnold lasers come standard with Siemens CNC controls. The CNC's new software interface networks lasers and robots to machine tool processes like milling, grinding and turning for automated production cells. Processes are also synchronized between the machines and robots for greater efficiency. Robots articulate the parts in the cutting and laser joining envelopes, then transfer them from machine to machine for additional operations.
"More and more we are being asked to deliver not just a laser welder but a turnkey system that can support additional processes when needed," says Thomas Arnold, president of Arnold Ravensburg.
"A greater continuity is being achieved through the use of work cells and especially robotics," adds GMTA President Walter Friedrich. "This also presents an entirely new set of challenges. The interaction between the robot and the machine tool, for example, is no longer limited to simple parts handling from station to station. Robotic part articulation, gauging and other functions are being incorporated into the CNC. That means companies installing these work cells will need machine and cell programmers, operators and maintenance personnel with the skill sets to match."
By connecting the shop floor to the top floor with a communications conduit, GMTA defines what it means to validate parts and control production processes in the context of a digital factory.
"Siemens plays an important role for us in technology development both in Germany and in North America," says Friedrich. "We need to streamline motion and process control of our machinery and work cells but we also need to be able to move big data to the proper links in the production control and product lifecycle management chain so that the right information is moving in the right direction with proper prioritization."
Arnold's development of the M800 laser, which can be operated with oxy-fuel or a solid state laser, and its two-station laser, both equipped with Siemens controls, is allowing GMTA to put these concepts into practice. The upsurge in product variety and continued demand for just-in-time delivery prompted design of the M800 modular laser work cell, says Arnold, citing the fact that "metal parts are being combined in automotive powertrain builders for complex 8-, 9- and now 10-speed transmissions. You must have a work cell with considerable firepower and a high degree of flexibility to support that kind of work."
One customer, an automotive factory near Chicago, illustrates why. "They have a huge staging area that houses parts until just before they are needed on the assembly floor," Arnold says. "When the parts are called for they enter final assembly and are built into the vehicle. This type of scenario requires a far greater degree of work cell and transfer line capability then we have seen thus far in today's automotive plants."
New configurations
The modular concept allows GMTA to customize the cell's footprint and makes it easy to combine the laser cell with other processes that can include stamping, bending and ultrasonic welding as well as the more conventional machining operations.
"We are often challenged to install a laser cell into a workspace that has specific size parameters, combine it with other machining technologies and ensure parts transfer from station to station along the production line without interruption," says Friedrich. "This configuration gives a manufacturer fast part changeover."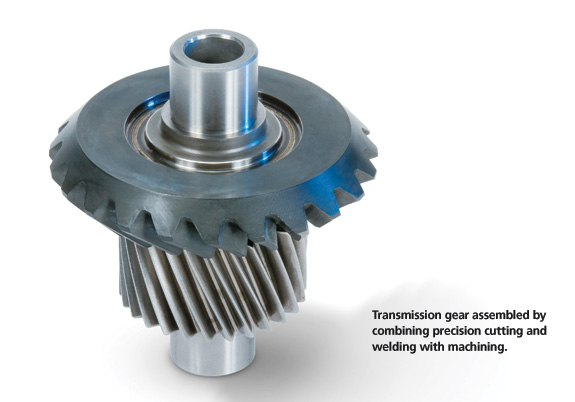 Dual-station laser cells allow customers to make parts during the loading and unloading operation. Processes like welding or preheating can be integrated into the machine to economize laser uptime, speed up production and optimize flexibility." Such setups "give customers a standard laser welder that can process parts up to approximately 11.5 inches as well as shafted parts while also accommodating machining operations like turning or grinding," Arnold says. "Two stations also make the laser welder suitable for round parts with high volume requirements because ancillary components like a wire feeder, press station or preheating station can be incorporated into the machine. There are a lot of possibilities for customers with this design."
GMTA's engineering application expertise and experience with integrating metalworking processes helps customers choose the right laser system to alleviate production bottlenecks and eliminate potential parts slowdowns. "Because the laser cell is equipped with a Siemens master CNC control we can weld all the parts before the system has to be delivered," Friedrich explains. "This can include gears, splines and housings as well as other interconnected mechanisms designed for today's transmissions."
Problem solving
In addition to moving parts from operation to operation while providing real-time updates, machine operators also have to take into account the new metal substrates being used in the automotive market and other industries.
"The auto industry in particular is trending toward the use of lighter materials," says Friedrich. "This impacts every stage of the machining and joining process from roughing to full six-sided machining of parts that are then transferred to laser joining, sintering or hardening and final assembly all in one location."
Use of lightweight materials means the production line can move more quickly, "but it also challenges machinery builders like us to develop equipment with significantly higher degrees of accuracy and dimensional online data," Friedrich says. "The trend has caused us to rethink a number of our machine and cell building strategies as well as the components we source for our systems."
Regardless of industry or end-use application, manufacturers want to reduce operations costs while improving process efficiency.
"They also want to remain flexible enough to respond quickly to model changes, part family production requirements and fluctuating market demands," Friedrich says.
GMTA and Arnold find that the acceleration toward the digitized factory means all components of production require a smooth data highway. "We are exploring ways we can apply laser technology to parts production," says Arnold. "Laser technology is continuing to evolve and we stepping outside the traditional boundaries to find uses for lasers that will be helpful to OEMs and suppliers alike." MM