Above: Metal Coaters cleans, pre-treats and roll-applies organic coatings in a continuous process on hot-dipped galvanized, Galvalume, cold-rolled, electrogalvanized steel and aluminum in coils ranging from 30 tons broken down into coils as small as 3,000 pounds on a skid.
Rolls of coil become the metal coverings that far outlast its asphalt alternatives
March 2016 - A sense of dread pours over a homeowner who sits down to relax only to look up and find cracking and discoloration on the ceiling. Often the result of a leaky roof, once outside moisture seeps through drywall, there's no telling what waits beneath.
Traditional shingles can be made of wood, composite materials or traditional asphalt that can last anywhere from 15 to 25 years. This lifespan is shortened significantly when subjected to excessive amounts of rough weather. More and more people are looking for a permanent solution, one where replacing or repairing a roof is unnecessary.
Meeting growing demand for metal roofing is Premier Metals in Sugarcreek, Ohio. The company began bringing its steel to Metal Coaters in nearby Middletown to be coil coated. Seeking to offer customers the ability to place an order and deliver the finished roofing product on the job site in 24 hours, "We quickly found we liked the people working at Metal Coaters and the connection went from there," says Lamar Troyer, president at Premier. The four-year-long partnership between the two companies has strengthened as demand for Premier's roofing continues to rise.
Premier provides roofing thicknesses ranging from 24 to 29 gauge and meets a one-day lead time in most cases. "If you call in and order a roof for your house and want it delivered in 24 hours, it'll be delivered in 24 hours," Troyer says. The quick turnaround is made possible in large part to the relationship Premier has with Metal Coaters, which keeps inventory at the ready to meet the manufacturer's demand.
Above: Special Gallery Blue Standing Seam, made by Premier Metals for a bank.
Below: An example of Premier Metals' standing seam valley with S5 snow rail.
In stock
The way it works is Premier uses 17 pre-selected standard colors, coils that Metal Coaters has available in stock to fill the purchase order. "These colors are on our floor at all times so we custom cut those sheets, have them painted and Metal Coaters gets it out quickly by always stocking our fastest-moving colors," Troyer says. "We've added a lot of inventory and they've built up their stock so they're ready for us."
Metal Coaters specializes in the toll processing or coil coating of customer-owned metal. It cleans, pre-treats and roll-applies organic coatings in a continuous process on hot-dipped galvanized, Galvalume, cold-rolled, electrogalvanized steel and aluminum in coils ranging from 30 tons broken down into coils as small as 3,000 pounds on a skid, which benefits companies—like Premier Metals—that need to unload coils with a forklift, says Gregory Stanek, northern region and OEM sales manager at Metal Coaters.
The coil coater offers a complete line of finishes from construction to surface critical appliance and OEM requirements. According to Stanek, the benefits of pre-paint versus post-paint are the considerable cost savings by eliminating work-in-progress inventories, warehouse space and material handling processes. Additionally, the metal is cleaned, pre-treated and painted in the flat so the surface has a uniform coating. A primer and topcoat are applied in one pass through the paint line, which improves corrosion resistance versus single coat post-paint applications.
"Our high-speed coating line runs up to 700 fpm and we utilize quick-change coater heads to allow us to change color on the fly without stopping the line," Stanek says. "This allows our customers to customize their order and paint several different colors during a paint run."
Above: Panels at Premier Metals exiting the rollformer.
Below: Trim production in-process at Premier Metals.
Keeping track
Metal Coaters uses an online system called Coil Tracker that customers check to keep current on orders as small as one coil up to bargeloads weighing 1,500 tons. Customers "can manage their inventory from how much they have in stock to scheduling paint runs and releasing their coils for shipment," Stanek says, adding Metal Coaters receives and ships 24 hours a day.
Once painted, Metal Coaters holds the painted inventory at its facility "until we need it," Troyer says. Using Coil Tracker, Troyer can see where his inventory is and alert Metal Coaters when he plans to send a truck over to pick up material for customers.
Once the material is ready to go, a truck and forklift move material to the job site. "Every coil has an identity or tag with a color code stating the weight and footage of the coil," says Troyer. "That way when coil is pulled from inventory and opened for production, they are in the exact width we need to produce the final sheet. If we ever have any claims issues or want to see what happened, we can pull that customer's purchase order and invoice and tell from which coil it ran so we can start a claim process."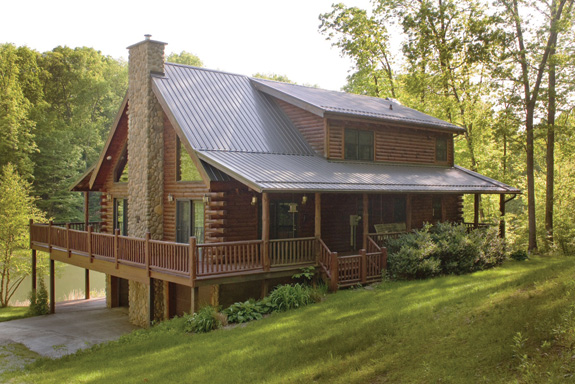 An example of a cabin roof with Antique Bronze Primer Rib.
"We have two different structural sheets we use to produce panels," explains Troyer, adding that the company also offers the same thickness, alloy and steel material in 29 gauge in different grades, using a softer grade for trim.
"Ninety percent of all our sheet are produced here. The coil is opened and fabricated here at the plant," Troyer says. After fabricating the sheet, coil is placed on the slitting line to produce trim. The finished product is shrink-wrapped and orders are delivered. Should the job call for it, Premier also has the ability to run 24 gauge with standing seam panels with hidden fasteners on site with a portable roll former used to manufacture standing seam panels.
In many ways, Metal Coaters and Premier feel the relationship has evolved in tandem over the last four years—Premier is one of Metal Coater's largest toll customers. "We feel like we've kind of grown together," Troyer says. "They opened that Ohio plant location right when we were looking for options and after making the initial connection, we've been able to rely on their service offerings to help us grow our business." MM