Heyco Metals
Company Profile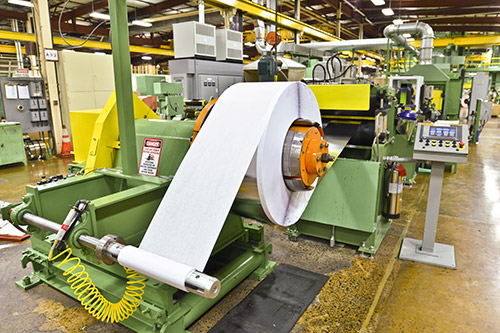 Premium light-gauge Stainless Steel available from Heyco
Heyco Metals – an ISO 9001:2008 certified company – offers high-quality, light-gauge stainless steel coil and strip in a wide range of grades and gauges down to .0018". Pristine surface quality is assured with Heyco's state-of-the-art 100% Cognex Vision System, which automatically scans every square inch of finished product.
Equipped with precision cluster and four high-rolling mills, high-temperature strand annealing and stretch bend leveling capabilities, Heyco provides the ultimate flat, stress-free product. The company is known for meeting precise specifications with short lead times and 95%-plus on-time delivery.
In addition to our wide range of stainless steel grades, Heyco also has a proven reputation for quality copper and copper alloys. To learn more about all of our metal capabilities, visit www.heycometals.com.
Featured Item
Light-Gauge Stainless Steel Coil and Strip
We're proud to offer light-gauge stainless steel coil and strip in the gauges you demand, down to .0018 in. In fact, "Double-O" gauges are our specialty.
Heyco is a supplier of light-gauge stainless steel on a national and international basis, and also offers toll conversion programs. We've built a reputation for industry-leading quality, rapid response, outstanding technical support and on-time delivery.
We offer a wide range of stainless steel grades with automated on-line surface inspection from our pioneered Cognex Vision systems. This ensures 100 percent inspection rates of all our stainless steel, for optimum quality assurance.