Formtek's retrofit package allows tube and pipe mill operators to roll with the changes
August 2017 - William H. Taft was presiding in the White House when Cleveland-based Formtek Inc. was established Jan. 1, 1910. Eighteen presidents and 107 years later, Formtek is still designing, building and servicing automated metalforming and fabricating systems.
Representatives for the company take their time getting to know customers and their specific needs, and work to develop products and modifications to rebuild and upgrade existing lines installed across North America.
Previously known as Yoder Manufacturing Co., Formtek comprises a group of companies that design and build two dozen brands of roll- and tube-forming systems, stamping presses for the metal building, window and door industries, and coil processing equipment. Formtek offers a comprehensive array of solutions for tube and pipe producing applications.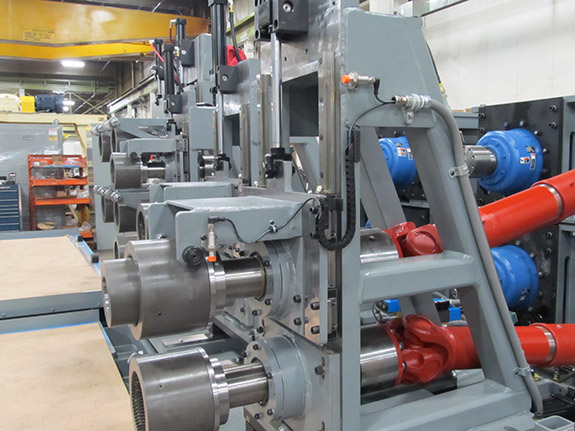 Quick-change technology minimizes downtime, lengthens the usability of existing equipment and increases overall productivity and revenue.
Its menu of machine technologies and services can benefit customers that want complete mills, individual machines, mill accessories, tooling, engineering studies and retrofits to existing installations. Perhaps most importantly, these solutions allow safety and management teams to work in more secure environments.
One example of Formtek's work in helping customers continue to get the most out of their existing metal production equipment is its Drive and Quick Connect Upgrade and Retrofit Package. Brian Kopack, senior sales engineer, cites the package's functions for tube and pipe mill systems. The company introduced the original package in 2012, and revised it in 2014.
According to Kopack, most functioning mills use group/sectional drive trains or individual roll stand drive trains. Unfortunately for such mill operators, these trains require pricey gear reducers that may have efficiency ratings as low as 70 percent. In contrast to these inefficient trains, Kopack claims Formtek's refurbishment solutions are far more technologically advanced and provide greater changeover speeds..
"These products help revamp the old tube mill drive train so that newer technologies, for both drive power and quick-change, can be offered," says Kopack.
Possibly the greatest benefit a Formtek customer can receive are the 107 years of institutional, hands-on knowledge.
"These products also help distribute drive power to the individual tube mill roll stands. They enable roll stands to be changed over by connecting and/or disconnecting a drive power from the roll stand shafts," he continues.
While adaptable to any size tube mill, the retrofitted equipment is especially economical and logistical, for mills manufacturing tubes and pipes. Moreover, the ability to connect or disconnect a drive power universal shaft promotes a speedy changeover, sometimes in an hour or two, for a pipe and tube mill. Such systematic technology minimizes downtime, lengthens the usability of existing equipment, and increases overall productivity and revenue. Enhanced output is a result of manufacturers not getting overwhelmed with stacks of unnecessary inventory.
Upgrade choices
Formtek provides three types of connect upgrades. The first is an outrigger universal support that requires existing raft modifications. Secondly, it makes a third-stand universal support that does not require raft modifications. Lastly, there is a third-stand coupling support that also negates raft modifications.
The raft is the heavy plate structure on which individual roll stands are mounted. The roll stands handle the forming work for the tube mill or roll forming machine as they are tooled with rolls. Depending on a machine's size, some rafts can hold three to four stands concurrently. Hence, rather than changing one roll stand on its own, three to four stands can be simultaneously changed. Regarding the outrigger supports, these supports are positioned between the tube mill's roll stands and drive train to complete forming work and supply rotational power.
Formtek provides three types of quick connect upgrades.
Kopack details the effects of upgrades and how desired outcomes are achieved.
"You want to create and transmit the power more effectively and efficiently, but you also need to get that drive power to the roll stands in a manner that will allow you to provide faster changeovers for medium or larger tube and/or pipe mills.
"By performing this retrofit, which can be done in two phases: drive gear train and/or quick-change," says Kopack, "the customer will have potentially faster line speeds and faster changeover time. Both create a situation where you can produce more [product] per unit of time."
How to refurbish
Doing business with Formtek is easy, Kopack says. Metalformers and metal processors need only supply their mill layout drawings, desired line speeds and product specifications. Formtek retrofits an individual roll shaft drive to an existing mill to promote electrical readiness, cost-effective inventory stocking, roll stand troubleshooting, robust gear reducer designs, advanced tooling and spare part management.
Rather than changing one roll stand on its own, three to four stands can be simultaneously changed.
Equipment users that might want to implement a retrofit with Formtek's program "are going after faster production speeds, lower changeover times," thereby guaranteeing increased production availability. "This increased efficiency will help them retain existing customers while winning new contracts—thus increasing profitability."
Possibly the greatest benefit a Formtek customer can receive are the 107 years of institutional, hands-on knowledge. The company has a blog whose authors talk about technical aspects of customers' daily work. One recent post compared different form roll welding techniques; another discussed rotary shears and flying die shears; a third contrasted rotary punching and stamping systems. That knowledge base will last as long as the well-maintained equipment that Formtek builds. MM