Above: To prevent injuries, loading docks add motion sensors to alert workers of the presence of moving equipment or other personnel inside truck trailers.
Updated loading dock configurations foster increased safety, security and efficiency
At any manufacturing, warehouse or distribution facility, the loading dock hums with activity: Material coming in and going out and trucks, forklifts, drivers and shipping personnel crossing paths. All this bustle, however, creates an extremely high-risk area. Common hazards include unsecured loads, unguarded dock edges and trailers separating from the dock because of the repeated impact from forklifts traveling in and out.
"Loading docks are notoriously dangerous places due to the heavy equipment that works in and around them," says Chad Dillavou, product manager at Rite-Hite Products Corp., Milwaukee, a manufacturer of loading dock equipment, industrial doors and safety barriers. "The typical loading dock will have some combination of forklifts, semi-tractor trailers and employees all moving around at a hectic pace to fulfill shipping and receiving orders. A single misstep can result in an accident that leads to lost product, damaged equipment or worse—injuries to workers. No facility manager wants to see an accident that leads to any of these situations but not every facility practices safe procedures."
Prevent common accidents
Newer approaches to loading dock design have the potential to drastically decrease the possibility of an accident. Drive-through docks, for example, allow facility personnel to load or unload trucks, including securing the doors, within the enclosed portion of the dock. Truck drivers don't have to open trailer doors and wait for a dock to open up or pull away from the dock to close trailer doors.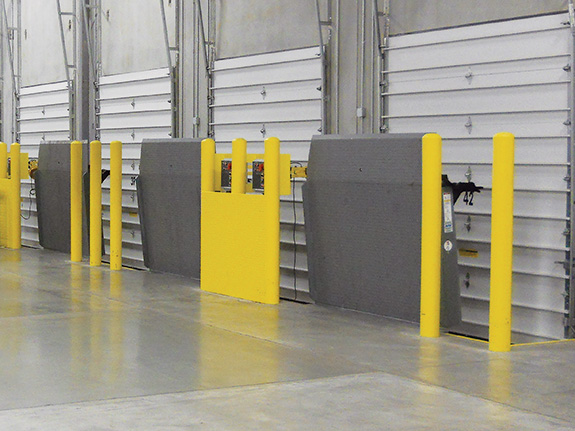 Because the RHV stores vertically, it acts as a visual and physical barrier to help prevent loading dock accidents and damage to equipment and doors.
Dillavou says that loading docks also are incorporating additional safety warnings that are effective but do not compromise worker efficiency. He cites motion-sensing technology that triggers a bright blue light that projects onto the dock leveler when it detects material handling equipment or a worker's presence inside the trailer. "This blue light indicates to workers inside the loading dock that a forklift might come out of the trailer at any moment," he says, noting that this type of device "can be interlocked with the dock control panel to keep the trailer restrained."
Motion sensors also can be installed outside the loading dock to detect when semi-tractor trailers are backing into the dock and alert workers with an audible alarm and bright strobe positioned on the vehicle restraint housing. "This is an important safety upgrade because backing trailers striking pedestrians is actually the second most common type of back-over accident, according to OSHA," Dillavou says.
Bridging the gap
Smooth-transition dock levelers can help improve efficiency in shipping and receiving operations and protect workers from injury. Traveling over bumps and gaps is jarring to workers and can lead to chronic injuries as well as damaged product and equipment.
The Rite-Hite RHV-4100 vertical-storing hydraulic dock leveler provides a smooth transition from floor to leveler to trailer due to its constant-radius rear hinge and two-point crown control on the front lip. "These two features minimize dock shock and equipment damage associated with the bumps and gaps common to most vertical-storing levelers," Dillavou says.
Several features of vertical-storing levelers contribute to safer, more secure docks. According to Dillavou, a setup with vertical-storing levelers, paired with loading dock shelters that have hookless sides, can accommodate a drive-through dock design. They also help control humidity and temperature in and around the loading dock by "minimizing inclement weather from entering because the loading dock doors can close directly on the pit floor for a better seal," Dillavou notes. Many surface-critical metal products must be protected from moisture and humidity to resist corrosion.
Another hygienic benefit of this setup is that it makes it easier for workers to wash down and clean the pit area. The levelers' tight seal also prevents dust, insects and rodents from entering the facility, while also minimizing entry points when the dock is not in use for added security.
"The RHV drive-through application provides unprecedented supply chain integrity, giving employees inside the building complete control of the loading and unloading process, from when the trailer seal is broken and the doors are opened to when the doors are closed and a new seal is applied," says Dillavou.
Is it time to upgrade?
Most loading dock equipment can be improved "fairly easily," Dillavou says. He suggests shipping bay managers thoroughly review the condition of current equipment. "If your loading dock has equipment that's 20 years old, it's long overdue for a replacement. However, don't just look to make a one-for-one replacement on a new leveler or vehicle restraint. Technology is advancing at a torrid pace, so finding a complete suite of products that offers upgradeable technology must be a major factor in any loading dock improvements."
Rite-Hite "encourages facility managers to look beyond a single piece of equipment and consider implementing a systematic approach that improves both safety and efficiency," he says. For example, an advanced control panel will interlock various pieces of equipment to ensure a safe sequence of operation. This control "demonstrates an employer has placed a premium on safety and cares about its employees." MM