Burghardt + Schmidt Group
Company Profile
The Next Level of Coil Processing
The Burghardt + Schmidt Group is an association of traditional, well-known and firmly established companies on the world market. Under the umbrella of the parent company Burghardt + Schmidt GmbH, the subsidiaries B + S - Schnutz and B + S - Delta Technik contribute to being a competent and solution - oriented strategic partner for our customers in every aspect of the coil processing industry.
Burghardt + Schmidt GmbH – where quality meets tradition
B+S, established in 1945, is a world leading family owned company which provides specialized coil processing equipment to a vast amount of industries. Since the founding of the company, our name has been synonymous with the highest precision for slitting and leveling of very thin and delicate metal strips. Our product portfolio includes slitting lines, stretch-bend-leveling lines, cut-to-length lines, traverse winders, leveling machines, packaging lines and retrofit. The machines and lines start slitting from 0.015 – 6.0 mm [0.0006" – 0.24"] thickness, up to 2.500 mm [98"] width and speed up to 800m/min [2624.67 ft/min].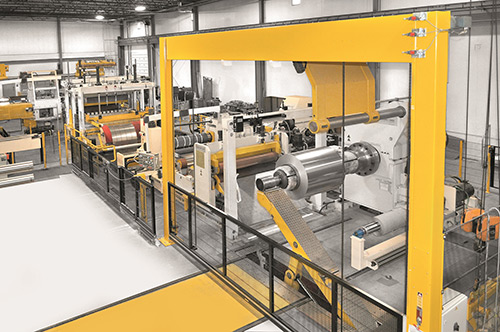 B+S – Schnutz – committed to tradition
B+S – Schnutz was founded in Siegen in 1846 as a blacksmith. During the industrial revolution, we added to the portfolio the construction of sheet metal processing machines. In 1882 we constructed our first leveling machine and we are therefore the oldest still existing producer of leveling machines. Our product portfolio ranges from levelers for strip lines, perforated sheets, high-tensile sheets and press lines. In addition, we manufacture hot strip levelers, pull-through levelers, straighteners as well as strip feeding lines. We build levelers up to 25 mm [1"] thickness, up to 2.500 mm [98"] width and strip speed up to 60 m/min [196.85 ft/min].
B+S – Delta – automation to its greatest
Since 1995, we have been offering our customers sophisticated automation solutions based on the latest technology both for new lines and for the modernization of old lines. B+S Delta works together with various machine builders within the coil processing industry. In fact, we also help companies to upgrade their drives, automations and controls. We cover the following real-time technological controls:
•high-performance process controls for stretch-bend-levelers
•flatness measuring systems and flatness controls for stretch-bend-levelers, also as a replacement for older flatness measuring systems
•high-precision cross-cut shear controls, also as a replacement for dependent control systems from machine builders
•high-precision traverse winder controls
•coiler controls and winding controls
•high-dynamic tension and speed controls
•mill and gauge controls for cold rolling mills
•flatness measuring systems and flatness controls for cold rolling mills
•elongation controls for skin pass mills