In five years, a family business catapults itself into a steadfast industry supplier
April 2019 - In June 2014, a family launched its dream of a service center into reality. After five years, 35 employees, five production saws and more than 2 million pounds in inventory, Ram Alloys realized quickly that a robust software system is an integral tool to maintain and promote further growth.
"In our first two years, we went from no saws to three, zero inventory to 1.2 million pounds, and realized quickly we needed to move to a larger facility," recalls Anthony Vlahos, manager and cofounder at Ram Alloys in Houston. "Moving that much inventory is a terrifying process, but we weren't scared because we invested in a reliable software system. Tracking our inventory, both physically and through the system, was seamless."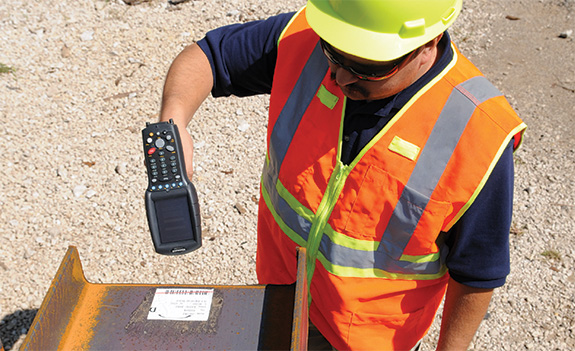 With laptop at hand, Vlahos and his team kept track of moving inventory in real time using Enmark's Eniteo software. "Moving stainless steel long products can be a mess, but we had multiple guys going through the racks," Vlahos says. "The system was great. It was simple: point and click and the information was recorded. We were able to transfer everything accurately, including recording heat number and mill test report transfers. If later we discovered inaccuracies along the way—where humans are involved there's always a chance for error—we were able to quickly and easily pull up the exact run in the system to locate where the mistake occurred. We could pull up history using a laptop, phone or tablet, which made a potentially horrid moving experience much less painful."
That first move, from a 15,000-square-foot facility into a nearly 36,000-square-foot facility (Ram Alloys occupies almost double that space today), went smoothly and had no negative impact on day-to-day business.
"The month we moved ended up being our best month of the year," Vlahos recalls. "We were concerned that it would be difficult to get orders out while moving and, on top of that, we added new personnel to the team. None of those factors impacted our bottom line. We stayed organized and were able to meet customer expectations and sales targets."
Ram Alloys carries large stock of standard long products, with a focus on stainless steel and nickel alloy round bars and stainless steel and nickel alloy pump shaft- and boat shaft-quality bars. The service center provides semi-machining of parts, centerless grinding, OD turning, production saw cutting, trepanning, boring, honing and heat-treating.
Enmark's Eniteo software allows Ram Alloys to quickly access inventory updates in the system. Barcode scanning helps users update the location of material in real time.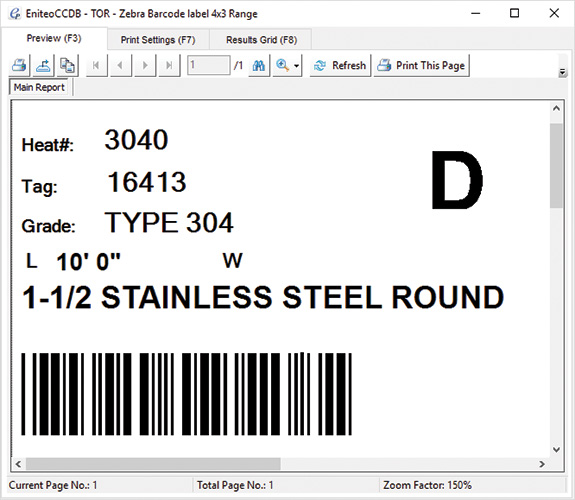 Specific design
Made with the metals industry in mind, Enmark's Eniteo software system was designed to work in all service centers, from small to large. Enmark's research and development allows customers to take advantage of new technologies via consistent software releases.
The Enmark Command Center order-entry allows customers to build quotes or orders extremely fast, says Benjamin Upell, regional sales manager. "Barcoding functionality eliminates shipping errors and expedites the physical inventory process, which greatly reduces cost," he says.
"Inventory control is paramount to the Eniteo system," adds Mike Voran, regional sales manager. "[It] provides complete traceability of material with barcode functionality. This along with real-time inventory location maintenance drastically reduces inventory variances and the effort [needed] to conduct a physical inventory. These features helped ease the burden of moving to a new location."
On the go
Enmark has developed numerous application program interfaces (APIs), which allow the Eniteo system to connect to CRM packages, automated storage systems and e-commerce platforms based on specific customer needs. "This eliminates double entry of data and provides an overall better solution for our customers," Upell says. Periodic, incremental releases are also offered to customers, often created with the help of user feedback.
"Many of our customers have a growing need to track the chemical and physical properties of their material," Upell says. They want new ways to validate this information at receiving and at the time of shipment. In recent years, Enmark enhanced Eniteo several times to address such needs. "We are also working to automate the input of this data directly from the mills, saving countless hours of work and eliminating errors," he adds.
Traceability and flexibility are paramount. Users can go on about their business knowing they can access information wherever they are. That access really does mean anywhere—even the happiest place on earth.
"I was at Walt Disney World when I received a weekend emergency call on my cell," Vlahos says. "The job needed to be turned around that day. I pulled out my iPad and looked everything up while speaking to the customer on the phone. I was able to quote the job, including a time confirmation, print the work order to the Houston warehouse, and our outstanding operations team received the information through the system and shipped it to the customer that same day." MM