Above: Copper discs are one of the metal components in the National Renewable Energy Laboratory's internal short circuit.
Red metals industry foresees a future that is green from the ground up
November 2019 - The people who bring you everything from gorgeous building façades to the connectivity in your smartphone's microchips long ago received the memo on the three Rs—reduce, reuse and recycle—and are continuously acting upon it in new ways. Frankly, developing products and solutions that lower greenhouse gas emissions is a growth industry.
So we asked Zolaikha Strong, director of energy policy and electrical markets at the Copper Development Association (CDA), to talk about the many roles of copper in creating a greener society.
"Copper is 100 percent recyclable, and the ability to reuse copper extracted from recycled products is a tribute to an industry that's environmentally conscious about its use of natural resources on behalf of consumers," Strong says. "In fact, around two-thirds of the copper that's been produced since 1900 is still in use today."
To produce 1 ton of primary copper cathode results in about 3.5 metric tons of carbon emissions. However, because of copper's effectiveness in electrical applications, and overall durability and longevity, between 100 and 7,500 tons of CO2 emissions can be reduced as a result of that investment, she says.
The CDA estimates that by 2030, the expanded use of copper could lead to a 16 percent reduction in global carbon emissions.
This past April, the International Copper Association introduced the Copper Mark—a new assurance system for responsible copper production. Inspired by the UN Sustainable Development Goals, the Copper Mark takes a comprehensive approach to sustainability and includes a credible verification of practices at copper production sites, including mines, smelters and refineries. Users employ risk management practices and publicly report on their on-the-ground results.
Clean energy applications
Costs associated with renewable energy sources like wind and solar are declining and as energy demand rises around the world, these energy sources present a re- newable, reliable and clean option. "Copper is a major component of the infrastructure needed to make these energies a reality," Strong says.
As the nation transitions to producing energy from clean sources, copper plays a major role. "Renewable energy sources like those produced from wind turbines and solar power systems use up to 4.7 tons and 5.5 tons per megawatt of copper, respectively," Strong says. "Copper is used in many components of these technologies from the cabling and wiring to turbine transformers and heat exchangers. The use and production of copper will be a main component in the continued march toward clean energy production, distribution and storage."
Strong cites copper's outsize role in electrical infrastructure "and the security that comes with a responsive and functioning electric grid due to its high levels of conductivity, reliability and durability. Investments in bolstered infrastructure, such as underground lines, are imperative to enhancing our country's electrical strength and security," she says.
CDA estimates that the generation of clean energy from solar and wind has a copper usage that is typically four to six times greater than from fossil fuels.
With wind turbines and motors, and interconnecting—cabling—the power generation industry is able to get services to places that don't have wire. The superior conductivity of copper will be applicable in all those areas, according to Strong.
"Copper provides efficiency in the production and transmission of energy, meaning there is less consumption and need for generation, resulting in lower emissions overall," she says.
Eliminating contamination
Another major function of this element is to safeguard humans from pollution. "Copper piping serves as the best and most effective form of plumbing, when compared to other materials like lead pipes or plastic pipes," Strong says. "With the proper corrosion controls in place, copper pipes offer less risk of leaching than plastic piping, which has been found to contaminate water with over 150 chemical compounds, many of which pose carcinogenic and reproductively toxic risks to human health.
"Copper is also a far safer substance than lead which—as illustrated by Flint, Michigan, and Newark, New Jersey—has devastating effects on local populations," she notes. "Lead exceeds EPA limits at only 0.015 parts per million. By contrast, copper is safe at levels far exceeding what could emit from piping in nearly all applications."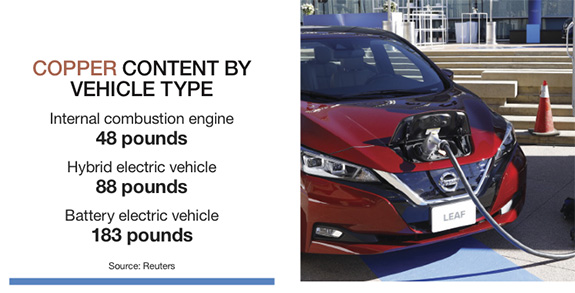 Electric vehicle technology
Copper also plays a major role in the construction of electric vehicles. Transportation is the largest source of CO2 emissions in the United States but EVs produce 54 percent less carbon dioxide emissions per mile than conventional vehicles.
An electric car can use 85 pounds to 183 pounds of copper, while an electric bus needs up to 184 pounds. "Copper appears predominantly in the motor coil that drives the engine, as well as in the batteries, inverters, wiring and in charging stations.
"On a global scale," Strong continues, "EV purchases are expanding rapidly. In 2018, the global electric car fleet exceeded 5.1 million units, up 2 million from 2017." China is the world's largest EV-consuming market, followed by Europe and the U.S. Sales of EVs have been increasing in the U.S. over the last few years, rising to 3 percent of total vehicles sold by fourth-quarter 2018 from only 1.3 percent of sales during all of 2017.
The industry as a whole, says Strong, "is conducting a great deal of research and development for products and practices" that match or exceed global sustainability standards. "We are finding important attributes and bridging gaps" because of these R&D efforts. MM
---
COPPER IN WIND FARMS
A 3-megawatts wind turbine contains up to 4.7 tons of copper:
• 53 percent cable and wiring
• 24 percent turbine/power generation
• 19 percent turbine transformer
• 4 percent transformers
Offshore wind farms require significantly more copper per megawatt on average than onshore wind farms, with copper cabling accounting for up to 82 percent of copper consumption.
Source: Navigant Research
COPPER IN SOLAR TECHNOLOGY
There are about 5.5 tons per megawatt of copper in solar power systems. The copper is commonly used in heat exchangers—transferring solar energy to heat water or air in heating systems, wiring to conduct electricity, and cabling to transmit electrical power or signals.
Roughly 1.9 billion pounds of copper will be needed to power 262 gigawatts of new solar installation.
Source: Navigant Research