Above: (l to r) Martin Stillger Chairman of the Executive Board of the Materials Services division; Timothy Yost President and CEO Ken Mac Metals and thyssenkrupp Steel Services; Norbert Goertz Chief Financial Officer, thyssenkrupp Materials NA Inc.
Distributor "relentless" about materials as a service (Maas), NA growth strategy
April 2021 - The Coil Processing Group, under the umbrella of thyssenkrupp Materials North America (TKMNA) includes three companies: Ken-Mac Metals, thyssenkrupp Steel Services and thyssenkrupp Steel Detroit. Timothy Yost, a thyssenkrupp veteran, joined Ken-Mac Metals when it was acquired in 1994. He is President and CEO of the Coil Processing Group.
Q: Please discuss the history and current strategy for growing the Coil Processing Group (CPG) in terms of geography, technology, capital projects and end use applications.
Yost: I was brought in as executive vice president and sought to create a strategy and roadmap to grow the Ken-Mac organization. We grew solely through internal measures, absent of any acquisitions. Beginning with one location in Cleveland and a very small facility in Detroit, Ken-Mac's sales were $80 million. Through our growth measures, Ken-Mac and the other two steel companies now generate over $1.3 billion in sales, all internally, with 10 plants across North America.
How did we do that? We have a saying that we live by: "It's all about people, at our company, at any company." We also believe that we are absolutely nothing without our customers, our suppliers and our hard-working employees. In many ways, I'm like the general manager of a professional football team. I work hard to find the right players, give them a playbook, and charge them to take ownership.
Our whole company was built on having a team of specialists. We carry aluminum, stainless and carbon steel flat-rolled products. We have specialists in each product line.
If you have a heart issue, will you see a general practitioner or will you go to a cardiologist? A lot of our competitors offer general line metals sales. We sell three different products serviced by specialized sales professionals who know each alloy, each temper, various grades and specifications, with endless applications. Value-added services include metallurgical assistance—we will recommend alloys and tempers to help customers engineer and manufacture their products.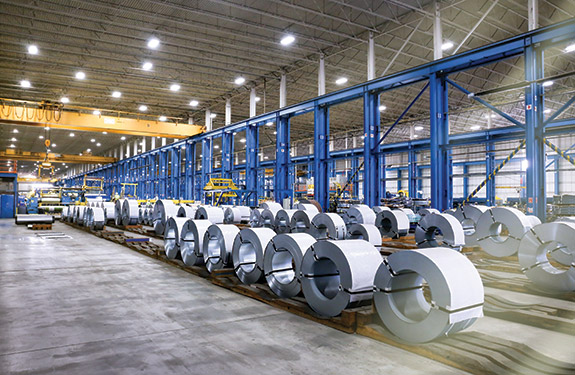 These specialists pursue certain geographic regions and certain end markets within those regions. They use a rifle approach versus a shotgun approach. It's very methodical—we build up our sales before we build new plants.
We focus on industries, geographies and contract supply chain management activities. That last service fosters customers' ability to engineer and assemble their products while we handle mill orders, processing and service, inventory control, delivery, and the digitalization of all tools in the supply chain.
Apart from the product specialists, our product vice presidents control the buy and the sale. Each is focused on what they do—they are out in the field selling their know-how and contract management ability.
Our markets are very diverse. Ken-Mac, in its early years, was known as a building products distributor, selling gutter coil and downspouts. We have transformed to a highly sophisticated model of engineered sales. We sell to all domestic and transplant automakers, including electrical vehicle manufacturers. We sell into truck and trailer, recreational vehicles, consumer durable goods, construction, pressure vessels and energy.
That is where we have grown. We put our sales team in front of customers—it's old fashioned in that way. Our specialists go into purchasing and engineering departments to sell in depth to all facets, from design, to die tryouts, to assembly. We retain those customers for the long term.
The digital transformation is occurring right in front of us. We are pursuing it in a large, needed way—from mill orders to shipment to our customers. Shop floor reporting and EDI are a few examples. We can look at a given order in our system, see where the material originated, when it arrived, what is its current location. We can identify the mother coil and what other products were made from that same coil. Has the material been slit or cut to length? Is it on the truck? What's the bill of lading number? Has the invoice been delivered? We are aligning all that information, where inside sales, field sales and our customers have full visibility.
Coil Processing Group sells to all domestic and transplant automakers, truck and trailer, RVs, consumer durable goods, construction, pressure vessels and energy.
Q: Please discuss the competitive landscape in which CPG is trying to achieve its goals.
Yost: Our business is very competitive. We try to separate ourselves from the rest. All of our facilities offer incentive programs to produce quality products in the most cost-effective manner. Each employee is incentivized with mutual goals. We have their attention. They get monthly bonuses based on productivity.
We combine incentives and stringent quality control programs with lean practices. This drives the process of being competitive at the price point. All support our ability to outperform peers on operational costs. We measure every line item in our P&L on a cost-per-pound basis. What is the cost per pound for labor, selling expenses, processing, freight? How do we improve that, get more product out of each coil?
We set objectives for improvement. We strive to lower costs for each line item. If you manage as a whole, you may miss things. But if you study it line by line, you can do things to affect the curve.
I personally look at the trends for each line item. Compare where we were, where we are and where we are heading. With that, we plan and execute a comprehensive strategy. We continue to professionally execute all cost and revenue streams.
Q: What are some of the challenges CPG faces right now?
Yost: Through COVID-19, the goal was to keep everyone safe, using social distancing on the shop floor and in offices. We had many employees work from home and gave them the tools to do so. We are masking and requiring employees to conduct self-health checks before arriving at work.
One other thing we did was to manage the whole process without having any layoffs at two of our companies. Being laid off is probably one of the worst feelings in life. I strived to keep our people employed and their health insurance in place without interruption. We did that successfully.
During this crisis, business fell off. Certain sectors, especially automotive, were off dramatically. We did minimize overtime and shorten work weeks. We managed vacations and had employees take days off during this period to keep all fully employed. We have managed to minimize the effects of the pandemic with our measures and will continue to do so.
In terms of metal pricing, we have all seen the volatility of the commodities we sell. Most of CPG's sales are secured within contractual agreements, which assist in neutralizing commodity swings. Yet, swings occur even when tied to a price index. Mill lead times have been as short as four weeks and out as far as 12 weeks. We understand build schedules, how they change and how everything impacts our supply chain management responsibilities. We balance supply to keep our customers in metal.
Q: What will CPG look like five years from now?
Yost: We have grown absent of acquisitions. Our future growth strategy will continue on the same path but we will also be looking into M&A. We want to grow in North America, and we will use internal methods and acquisitions to create a larger footprint. We are seeking a larger industry and customer base, with a focus on profitable growth.
One word we use all the time, when it comes to our business, is relentless. If you are not moving forward, you are moving backward. We strive daily to make our operations better. We strive to keep our people engaged and committed to excellence. We promote from within and we have good employee retention compared with peers in the industry.
thyssenkrupp Materials Services has a strong commitment to MaaS (Materials as a Service). It is huge. Along that line, we create engineered solutions for supply chain management activities. It's way beyond materials; it's the service that goes with that. There are many different solutions depending on where customers are, what they need, when they want delivery. We have global supply chain management programs for them.
Our organization creates goals, crafts well-thought-out strategies and executes them. We constantly review and adjust where appropriate. In the future, this will be a company that is larger in scale, best in class, and an employer of choice.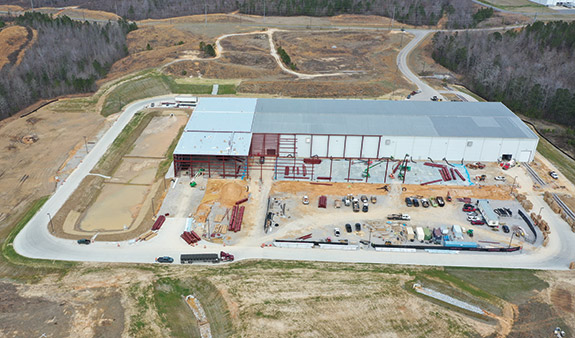 Birmingham, Alabama: Greenfield expansion has been the primary mode of growth for the Coil Processing Group, but it is now scoping out acquisition targets.
Martin Stillger is Chairman of the Executive Board of the Materials Services division and CEO of thyssenkrupp Materials Services GmbH. He joined the organization in 2008.
Q: Please describe thyssenkrupp Materials Services.
Stillger: thyssenkrupp Materials is the largest materials distributor and service provider in the Western world. Our 16,000 employees serve about 250,000 customers in more than 40 countries with total sales of about $12 billion. The North American market is important to us and counts for roughly 25 percent of total sales.
Q: thyssenkrupp is in the midst of an evolution. How will this impact thyssenkrupp Materials Services overall?
Stillger: In May 2020, our leadership initiated an organizational and structural transformation of thyssenkrupp into a group of companies comprising very independent and efficient businesses. Materials Services is a main segment of the thyssenkrupp group. We already hold a strong market position and will continue to develop our business in the future.
Q: Does inorganic growth play a role in your strategy?
Stillger: Yes. Where opportunities arise, especially in attractive and growing markets like the United States, we are looking into growth options through acquisitions and as well as organic growth options.
Q: What role does sustainability have in the business?
Stillger: Sustainability is a central component of our agenda; it is firmly anchored in our corporate vision and is considered in all our planning. For us, sustainability has an economic, ecological and social component and means making the best possible use of the finite resources available, sparingly and responsibly.
Q: Where do you see the business in three to five years?
Stillger: We foresee a big step forward on our path to long-term profitable growth and a sustainable tomorrow in which we make the best possible use of all resources. This refers to materials, raw materials, financial resources, but also to our employees and partners. We will be the key player for a smarter connection between people and materials.
This is the core of our strategy "Materials as a Service": While materials distribution remains the basis of the business, we are expanding our digitalized supply chain service. Going forward, we will continue outselling our peers and become the best supply chain manager. We already serve large multinational OEMs as well smaller family owned clients with this service. We will always be available.
A 75-inch-wide slitting line with dual payoffs, dual recoiling, inspection oiling and X-ray gauge monitoring.
Norbert Goertz is Chief Financial Officer for thyssenkrupp Materials NA Inc. He joined the company in 1995.
Q: Please talk about the organizational structure of your group.
Goertz: thyssenkrupp Materials NA was put on the map in the late 1990s through a series of acquisitions. We were previously an offshoot of our carbon mill in Europe and specifically serviced automotive OEMs.
Today we are a company that recognizes the different business models each has and we distinguish between them. There are six business models under our umbrella; focuses are global aerospace; global carbon steel trading; automotive OEMs in Mexico; supply chain solutions for automotive, energy and other industrial sectors; the OneSource Group and our Coil Processing Group, comprising the thyssenkrupp Steel Service and Ken-Mac brands.
These are all different with a separate supplier base and a separate customer base. Each one has its own management team. That helps us to keep the focus. For example, aluminum shortages may hit many companies in our portfolio but the solutions may be very different from company to company.
Q: What is the group's acquisition strategy?
Goertz: Materials Services has defined the U.S. as a strategic key market and sees growth opportunities for our group. There are many ways to look for acquisitions. We seek out synergies but mostly we want companies that are run successfully and which align with our objectives. We want to share values on how we run the business and serve customer, go to market and manage the employees. An acquisition has to fit certain criteria. We want to be recognized as a trustworthy resource by our suppliers, employees and customers. With any acquisition, we look for geographic growth, product growth, what end markets the company serves.
Q: What about organic growth?
Goertz: Organic growth has been the way we grew mostly in the past. Also today, there are various greenfield projects on the way. We are currently doubling our footprint in Woodstock, Alabama. That is a big investment. We will invest in CPG at the Kenosha, Wisconsin, facility, through equipment installations. There is another greenfield project that will likely be announced soon.
Q: How does the organization compare itself with its peers?
Goertz: We look at what makes us unique, and how we can improve our performance. Also, how to serve existing customers better and attract new ones. We value each of our business models and understand the need to focus on their differences. We leverage certain internal activities as a group, namely centralizing support functions for human resources and information technology. It's a mammoth project to centralize IT. We have done that and we're rolling out our digitalization strategy. If you have a common IT infrastructure, you can advance more quickly and more efficiently compared to many individual infrastructures. We see that as a big advantage.