As supply chain hurdles clear and the market finds a new normal, the sky is the limit
Janaury 2022 - No matter what the pressures are today, one must always plan for the future. Pressures can be either good or bad; sometimes an industry faces both types at once. In the new year, toll processing executives are bullish on their demand prospects while they have become more innovative in recruiting and retaining workers, overcoming supply chain bottlenecks and—above all—communicating with customers in great detail.
"Current demand is exceptionally strong," says Seth Young, president of Amerinox Processing, Camden, New Jersey. "We do not anticipate a slowdown during the first quarter. We think strength will continue beyond Q1. It's the perfect storm: not enough material, disruptions in the supply chain. We don't think most of that will sort out for several more months.
"What's happening meanwhile is our customers want material processed as soon as it arrives," he continues. "This causes stress and pressure on everyone. These are challenges but it is better than when demand and volume are falling and you struggle to keep the doors open. Things will find a balance eventually," Young predicts. "Everyone is doing their best to match the surge in demand post-pandemic and service their accounts to the best of their ability."
Howard Pena, president of Andes Coil Processors, Lewisville, Texas, finds the market for processing services is "very strong right now. It's been more consistent this November and December than we have seen in past years. Everything in our customers' projections is solid and improving."
Incoming material was sparse at times during 2021 but more product is arriving regularly at Andes Coil Processing.
During 2021, says Pena, "our customers had issues with mill supply. [The volume of] incoming steel was sparse at times. In November, that started to ease up. More steel is coming in than we had during the last six months. It certainly looks like the situation will clear up further over the next six months."
Through the first half of 2022, Pena predicts Andes Coil Processors will experience solid growth in its tolling volume. "We are close to adding another shift, we are just a person or two away."
At TSA Processing in Houston, co-owner and President Bill Tresten says that the consensus on aluminum is that "there is a good balance between supply and demand. Stainless is still tighter but we are seeing more product coming in and [the industry is] catching up on orders. Things will continue to improve and get closer to normal in the first quarter," he predicts.
Contract business "seems to be strong," Tresten continues, and "we expect to be strong through the first half."
Larry Sachs, operations manager for RSDC Michigan in Holt (south of Lansing), believes that "anything that was slow during 2021 [mainly due to supply chain constraints] will get made up during 2022. It should turn around strong." On the other hand, "COVID could get worse, so we don't know that future for certain."
For Midwest Materials, Perry, Ohio, the long-term outlook is "very good," says CEO Brian Robbins. "I think demand and economic potential are good but, short term, there is still some disruption. We hope the [carbon steel] price won't fall too quickly."
Slitting and cut-to-length capacity are on the top of the list for upgrades among toll processors like TSA Processing.
Supply chain
Robbins says he is "eager to see what happens" this year. "Truck trailers, dump truck bodies, the agriculture, energy and construction industries are all wanting material. They had some supply chain constraints and cut their forecasts. Someone might be missing a spring they cannot install. There will be demand adjustments," he predicts. "It's sort of apparent demand versus real demand. The amount of widgets needed remains the same but when they arrive and how that moves up demand for products around that are in flux."
Last year, he says, "People were emotional; [they] were double buying. People are now slowing down [their purchases] due to normal issues, including pricing."
Sachs says RSDC Michigan experienced some anxieties last year. "Everyone was having supply issues. There were a couple close calls where it came down to the wire before material arrived, but nothing that caused a work stoppage."
In the auto industry, the shortage of microchips was "a big issue for final assembly," Sachs says, which "trickles down to folks like us. So business [during 2021] was slower than forecast, but only a bit slower. The projections we are hearing—and our biggest customer is General Motors—is that as the chips become more available, GM plans to ramp up and make up for any lost production they saw to that chip shortage."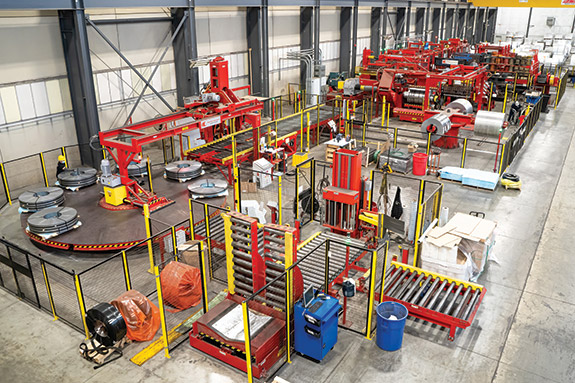 Human resources
Since the 1970s, North America's manufacturing and metalworking sectors have typically found it difficult to recruit and retain skilled labor. A black swan event such as the COVID-19 pandemic did not help matters. Toll processors have had to raise wages and implement bonuses and incentives to keep people coming into work.
"We are proactive with wage increases and we cross-train employees to do more jobs so we can adapt to the work more quickly," says Andes Coil Processing's Pena. "We have incentives and bonuses, too, to keep our employees in place. We find creative ways to keep people happy and tell their friends."
According to Young at Amerinox Processing, "Our industry has a hard time attracting young people, but we are adding overtime hours when possible. We keep material flowing by getting our people to put in the time and hours to push through our lines."
TSA Processing offers an incentive plan "so that if employees are working efficiently, they can earn more money. Even with those practices, it's still hard to recruit," says Tresten. "Producing mills and big distributors are making a lot of money because their inventory value is so high and business is going well. So a lot of the labor pool we have to look to are those working at mills and distributors that are able to keep wages high with lucrative bonuses and incentives. As a processor, we cannot pass along costs as easily," he says.
Over the past two years, Midwest Materials' starting wage on a percentage basis has risen about 30 percent. Located northeast of Cleveland, "we are in a low unemployment market," Robbins explains.
Manufacturing was solid and stable until the U.S. switched over to a service economy, and "everyone wanted to become lawyers and bankers," he says. More recently, within the gig economy, "no one wants to work in manufacturing."
Whereas two years ago, hourly pay was $13 for someone with zero experience, it's now $18 for Cleveland-area high school graduates. Manufacturers must now offer signing bonuses, retention bonuses, referral bonus, even COVID bonuses, Robbins says.
"I want to do everything to support my team. We sent people home; we gave them relief from the stresses of pandemic life." Midwest Materials also provided bonuses for employees who got vaccinated.
Part of the difficulty Robbins finds in attracting young people is that they can make good wages at restaurants and retailers, and they aren't thinking about the benefits packages that manufacturers offer, with health insurance and IRAs.
"Nobody wants to work all the hours, either. We want to put on a second shift but it's so hard because no one wants to work that shift," Robbins says. "No one will relocate for work anymore. They don't want to move to St. Louis."
In the recent past, the average tenure of Midwest Materials employees was 20-plus years. "They were union and stayed forever. Now, young people will try different things and they don't stay at one place. That's a big challenge."
Tresten's experiences echoes that. "We are trying to build a second shift but cannot find the people. For a crew, we need five people to run the line. It's a nightmare to get qualified people. We could do a whole lot more if we could find the right people," he says.
Everyone is doing their best to match the surge in demand post-pandemic and service their accounts to the best of their ability, says Seth Young at Amerinox.
Upgrading capabilities
Toll processors are bullish enough on their prospects for growth that they continue to invest in plant and equipment.
RSDC Michigan has purchased a laser blanking line to be installed later this year. It is a "shift in technology" compared with the company's traditional slitting, cut-to-length and blanking lines, says Sachs.
Separately, "we have a team looking into reducing our carbon footprint. That's a new direction for us. So there might be some investments there, too. We have plans in the works to add robotics [such as] automated stacking and loading of tables, things that were done manually. It's for safety and ergonomic reasons and helps us with manpower," says Sachs.
Andes Coil Processing is looking to replace a slitter and upgrade or add a cut-to-length line, according to Pena. "We're also exploring additional rail-served space for storage and processing capacity," he says.
TSA Processing installed a new CTL line in Bensenville, Illinois, during 2020. The company is also in the process of consolidating two locations and is moving equipment into a new, larger facility in Montgomery, Illinois. It expects to open a new plant in Pittsburgh during January. On the table are plans for a new CTL line in Atlanta. According to Tresten, the latest CTL line has a double stacking unit and a rotary shear—features that make it "a whole lot more efficient" and that manage "substantially more tonnage."
In December, Midwest Materials began starting up a Red Bud Industries stretch-leveling line built to handle material 3/4 inch thick by 76 inches wide. "This tells you we are bullish on demand for processing," Robbins says. "We have been busy most of the past two years. We had a lot of toll requests throughout the year. Price erosion scares people; it delays orders but it doesn't reduce demand."
Communications
During any market cycle, but especially when information is crucial to managing inputs and outputs, communication will keep customers from freaking out.
"Communicating openly and honestly is key. You cannot manipulate or embellish facts," says Amerinox's Young. "Always tell the truth. There is no substitute for that. You have to be accountable, as painful as that is.
"No one wants to tell you bad news but it does calm people down if they know what to expect, even if it's not what they're hoping for," he says. "They can relay information down the line and can plan their production and projects accordingly.
"People tend to be more understanding when you always answer their calls and respond to emails. Nothing is seamless at the moment due to the increase in demand, producers being late due to supply chain issues, and everyone needing orders completed yesterday," Young notes.
At RSDC Michigan, Sachs and his team deploy the same philosophy. "We make sure that everyone is very aware of each situation, and everyone we work with has put in the extra checks and balances and communicates the timelines to try to curb issues in advance," he says. MM