EMH Crane
Company Profile
Engineered Material Handling (EMH Crane), headquartered in Valley City, Ohio, serves a wide array of industries; designing, manufacturing, and selling a wide range of durable, robust, and heavy-duty overhead material handling equipment solutions–for loads of 25 lbs. to 300 tons. Our overhead material handling solutions include Bridge Cranes, Gantry Cranes, Jib Cranes, Self-Standing and Workstation Cranes, Crane Kits, and custom and standard Wire Rope Hoists and End Trucks. EMH is ISO 9001:2015 certified.
Count on global coverage with manufacturing in the USA, India, and Germany; and a network of strategically located distributors, providing local sales and service support.
Looking for local service and support you can trust? EMH offers a total service program designed with your individual service needs in mind.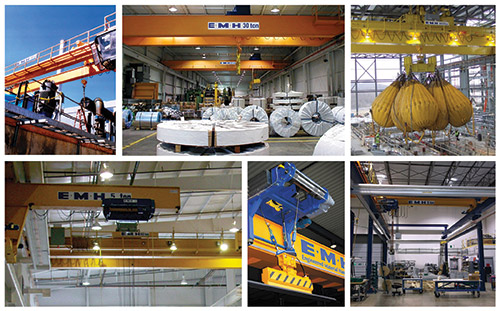 ---
AL Systems™ Workstation Cranes
EMH AL System™ Workstation Cranes are flexible and easily installed solutions for a wide variety of crane applications with lower capacity requirements up to 2,200 lbs. Lightweight aluminum track profiles, exclusive EMH T-Slot design, anodized enclosed rails, and anti-kick-up nylon wheels are all contributing benefits that provide maintenance-free workstation solutions. AL-System Cranes safely and efficiently accommodate a wide variety of lifters and handling devices. With lightweight aluminum track profiles, AL System Cranes are also easily configured to suit almost any application need. Their anodized aluminum extrusions and enclosed rails maximize strength, provide longer durability, and add to their aesthetics.